JET Magazine: Black Sheep Not Always Bad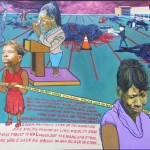 Sparked by the disconnect in society with the devaluing of Black lives, artist Jeromyah Jones painted his emotions onto a raw canvas entitled, "Black Sheep Are Not Always Bad."
The oil painting highlights the grief of mothers, Mamie Till (mother of Emmett Till), Sybrina Fulton (mother of Trayvon Martin), Lesley McSpadden (mother of Michael Brown) and Gwen Carr (mother of Eric Garner), who lost their sons too soon due to unjust circumstances. In it, Jones revisits the prominence of understanding a mother's pain and the actions that led to their heartbreak and tears.
In a written statement to JET, Jones said:
"One of my primary reasons for painting, "Black Sheep Are Not Always Bad," was for viewers of all nationalities to understand how far back black people have had to suffer just because of who we are and the rich spiritual history we are connected to. When creating this oil painting I was hurt and baffled by how the world surrounding the black community could still have such a hard time feeling what the mothers are going through. In this work there are two scriptures that paint the picture of Who cries for us (John 11:35) and why I personify us as sheep (Psalm 44:22).
Painted beneath the yellow tape marked "Police Line Do Not Cross The Line," held by Lesley McSpadden, reads the following poem:
Black sheep are not always bad,
But for some reason they all end up sad,
Reasons known are not always sown,
The enemy loves to fight when the shepherd is gone.
How long shall mothers weep,
Watching blood drip from their slaughtered sheep?
I see my brothers lying by the roadside
And folks passing by like reality died!
I guess Target is no longer just the name of a store,
It's anyone who is seen as having too much Black in store…